Pancake, or Boob, is a kittydog that is in a relationship with Crystal. In the timeline universe, he is trans by Female/Male and in the Void universe, he is trans by Male/Female. He is very sexual towards others, but can be really sweet and caring at times. His mother is
Cupcake Cat
, and his father is
Wafflecopter
. He was first introduced in the Kittydog video Get paid, Get laid, Gatorade. He was originally gonna be a jackass. His nickname, Boob, is a reference of how he can be an idiot.
Appearance
Edit
He has a bowtie on his chest and a bowtie pattern for paws.
He has an Orange-Yellow Linear Gradient as his fur colour with red eyes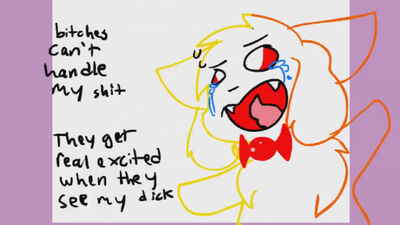 Ad blocker interference detected!
Wikia is a free-to-use site that makes money from advertising. We have a modified experience for viewers using ad blockers

Wikia is not accessible if you've made further modifications. Remove the custom ad blocker rule(s) and the page will load as expected.