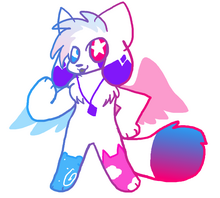 Crystal Sprinkles is the main character in the Kittydog story. She is Kittydog's fursona, and she is both a child and the fusion of fluffen and puppers. Though her name is Crystal, she is referred to as Kittydog sometimes, because she is the main Kittydog species.
She can release crystals and use it in battle as a projectile by shooting it from her mouth, or melee weapon by swinging the crystal from her mouth. The colors of the crystals also can show what emotion she is feeling.
Ad blocker interference detected!
Wikia is a free-to-use site that makes money from advertising. We have a modified experience for viewers using ad blockers

Wikia is not accessible if you've made further modifications. Remove the custom ad blocker rule(s) and the page will load as expected.